by Steve Topple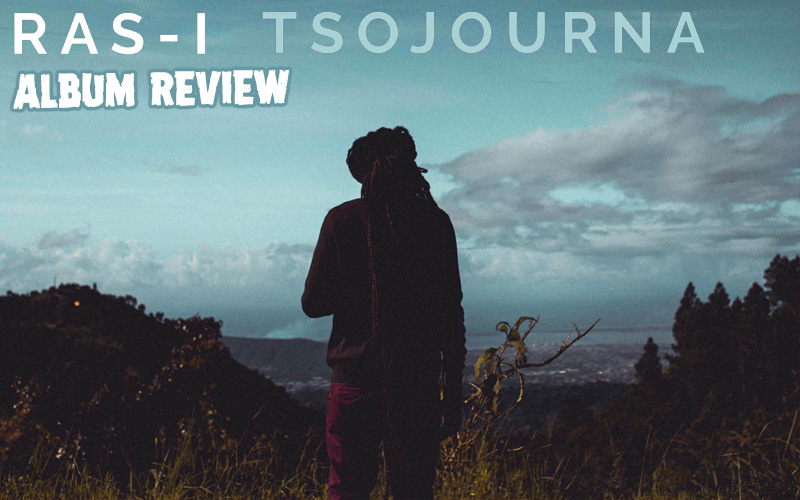 Many albums represent a 'journey' an artist has been on. But the debut release from one of the most exciting fusion artists around represents one that has been several years in the making.

Tsojourna is the first album from Ras-I, released via his own label Ras-I Musique and Wakeupstar. Having already gained a reputation for his intricate fusion of Roots with Soul/RnB and Jazz, Tsojourna has a fair bit of expectation riding on it. Fortunately for Ras-I, it doesn't disappoint.

To describe Tsojourna as a Roots album would not do it justice. While Ras-I has incorporated many Reggae-based musical devices into the album, its expansive nature leans more towards Neo Soul. The album is musically split into three parts, weaving from Bob Marley-esque Roots, to Soul and then to New Wave Roots. But it being Ras-I, Tsojourna is infinitely more complex than those distinctions.

After a brief Intro, the album opens with I Am featuring The No-Maddz. Several Roots devices are present: guitars strum a bubble rhythm, which is contrasted by a weaving, Rocksteady bass line. But in contrast Ras-I drops a Hammond organ into the mix. The backing vocals perform a call and response, RnB-led duty, which is complimented by a funky electric guitar almost out of earshot. This leaves I Am fusing Ras-I's influences perfectly, and serves as a taster of what's to come.

Cease Fire goes into pure Bob Marley territory. The keys are on a bubble rhythm; the Rocksteady bass is there, this time with Ska horns interjecting. The drums and percussion centre around an innovative one drop and this classic package is finished off by Ras-I's versatile vocal, gliding between a tenor and falsetto with ease.

The pace picks up with Bad Boy Bully, and the mood begins to change. Roots devices are still present, but the drums take the track into more Hip Hop, less one drop, terrain. Dubby synths are welcomingly overshadowed by the use of what sounds like a Theremin, and the whole track is stripped-back, rawer material.

This compositional breaking down leads into the next section, and Belle Mama (Beautiful Mother) – a gorgeous ballad to the Motherland and the homecoming of the children of diaspora. It's a musically curious piece, standing out from the rest of Tsojourna and almost an interlude of sorts. Folk-Pop in nature, it nods to traditional African music in the flourishes of percussion and the arrangement of the backing vocals. The track is pure bliss, enhanced by Ras-I's sumptuous yet controlled vocal.

Ras-I then moves into the next area of musical territory. Crazy Over You (featuring Runkus and Royal Blu) is pure, unadulterated laid-back Funky Soul. Smoky horns weave in and out, sliding between semitones, and a Hammond organ takes more of a prominent place. Whining electric guitars compliment the three artists' Jazz-esque vocals perfectly.

Meanwhile, Ordinary Day moves us straight into 2019 Neo Soul. Hip hop drums play a variation on a one drop; those smoky horns are back again; Ras-I's falsetto puts you in mind of Maxwell and his performance oozes sensuality, as he kisses his teeth, proclaiming "you know I'm right". Hot, hot, hot.

In the final act of Tsojourna, Ras-I moves into more modern Roots than the first section of the album. Love She Want features the sublime vocals of Jesse Royal. It's a Roots-derived masterpiece, diverging from the earlier Bob Marley-esque tracks into a modern Reggae/Soul hybrid.

Closing Tsojourna is Keep My Faith. It is the perfect ending to the album, amalgamating many of the styles that have come before it: call and response/RnB backing vocals; the keys on a persistent bubble rhythm; funky electric guitars riffing in the vocal gaps; a Rocksteady bass off doing its own riff and Ska horns doing a musical response to Ras-I's vocal call. Glorious.

The album is a wonderful musical blend of the rainbow that is Ras-I's musical palette. It's also a pertinent example of the quality that can be achieved with live instrumentation. But of equal standing in Tsojourna is his lyricism and philosophical content.

I'd need a separate page to breakdown the themes and political, social and spiritual content contained within the album. But suffice to say Ras-I has laid out a journey across the project. I Am's setting out of the path Ras-I is trodding, and Keep My Faith's temporary conclusion about how he (and we) need to keep on that trod path regardless, give Tsojourna a beginning and an end point.

Standout stops on this voyage include Cease Fire. It is a devastating commentary on the systematic police killing of black people and people of colour, and the institutionalised nature of racism. Ras-I cleverly brings his message from a pleading position of love, not anger. And for me, it was moving that he referenced Sandra Bland, a name too many have already forgotten. Cease Fire is a track worthy, in every sense, of the legacy Bob Marley created.

The quality of Roots-derived music this year has been exceptional. From Fyakin's New Wave (August 2019) to King MAS's Crown (February 2019) artists have been at the top of their creative and spiritual game. Tsojourna is a powerful addition to this rollcall.

Ras-I has created a thing of beauty. Lyrically searing and musically divine, the album stands as a testament to this gifted artist's depth of soul. It must surely stand as one of the more powerful releases of the year.
Read the original review on Reggaeville.